The 16th Annual Fountain House Symposium and Luncheon on Monday, May 6th was a resounding success. We are pleased to announce that the event was sold out and attracted more than 600 attendees. We raised over $1 million to support our community-based model that improves the lives of people with serious mental illness. 
If you were unable to attend the event or would like to re-live all the special moments, you may view a film of the event here:
 

This year's topic was The Anxiety Epidemic, New Research • New Insights. We were thrilled to have three outstanding panelists: Anne Marie Albano, PhD, ABPP, Professor of Medical Psychology in Psychiatry at Columbia University Medical Center and Director of the Columbia University Clinic for Anxiety and Related Disorders (CUCARD) and Clinical Site Director of New York Presbyterian Hospital's Youth Anxiety Center at CUCARD; Sanjay J. Mathew, MD, the Marjorie Bintliff Johnson and Raleigh White Johnson, Jr. Vice Chair for Research in Psychiatry, Professor of Psychiatry and Behavioral Sciences in the Menninger Department of Psychiatry & Behavioral Sciences at Baylor College of Medicine; and Scott Stossel, National Editor of The Atlantic, Author of My Age of Anxiety: Fear, Hope, Dread and the Search for Peace of Mind.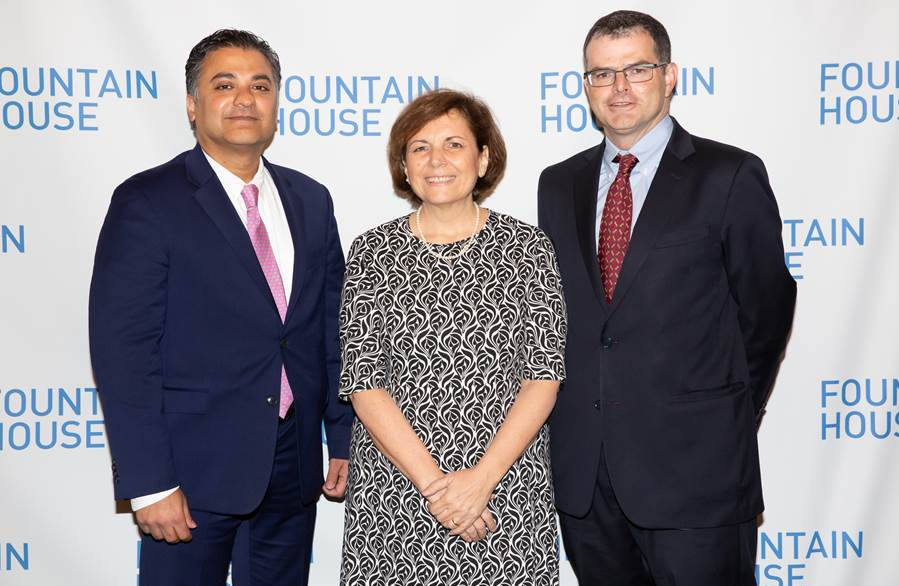 Dr. Sanjay Mathew, Dr. Anne Marie Albano, and Mr. Scott Stossel

Our Symposium and Luncheon Co-Founders, Lorna Hyde Graev and Lynn Nicholas, PsyD, began this event to advance community knowledge about mental illness and to reduce stigma. It has now become the premier lay forum for the discussion of mental illness in New York City and Fountain House's most important fundraiser.

Our dedicated Chairs, Patricia Begley, Kitty de Chazal, Alexandra A. Herzan, Carolyn B. MacKenzie, Anne Mai, Jennifer Oken, Florence Peyrelongue and Ilyse Wilpon, worked tirelessly to ensure the event's success.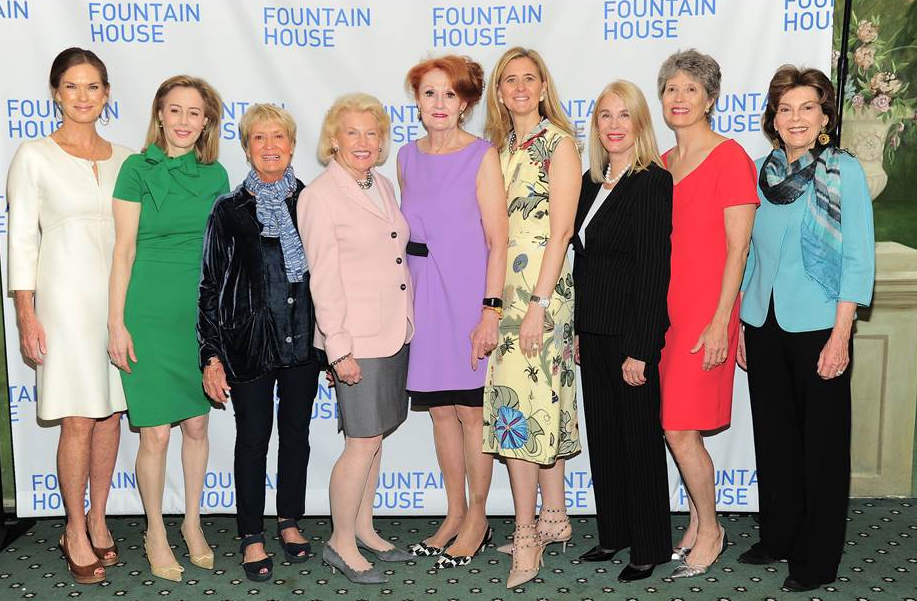 Chairs Jennifer Oken, Ilyse Wilpon, Anne Mai, Carolyn B. MacKenzie, Patricia Begley, Florence Peyrelongue, Founding Chair Lorna Hyde Graev, Alexandra A. Herzan and Kitty de Chazal (not pictured, Founding Chair Lynn Nicholas, PsyD). 
The entire audience was inspired and emotional after watching a film celebrating Kenneth J. Dudek, who is retiring after 27 years as Fountain House President. During his tenure, Kenn created and implemented a strategic vision that has positioned Fountain House as a leader in the global search for cost effective, humane, and successful solutions for people living with serious mental illness. The film focused on his legacy of innovation, including numerous new programs such as Fountain House Gallery and Studio, College Re-Entry, Wellness, Fountain House Bronx, and more. Afterwards, the guests gave Kenn a standing ovation.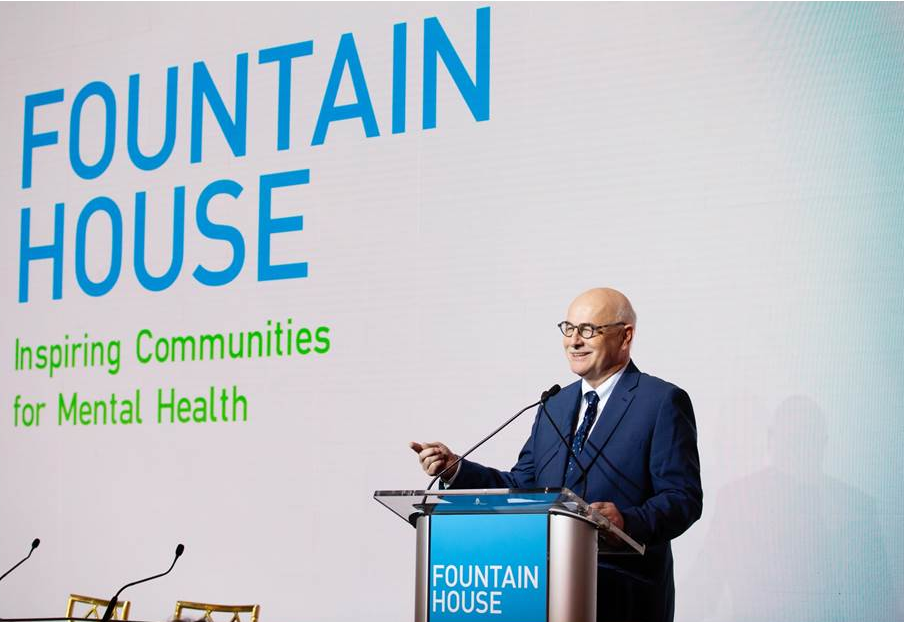 Kenneth J. Dudek, Fountain House President

Honoree, Elizabeth Vargas, host of A&E Investigates and Emmy award-winning journalist, received the first ever Fountain House Award for Excellence in Broadcast Journalism. She spoke candidly about her experience with anxiety and the integral role public discourse plays in the stigmatization of the illness. 
Elizabeth Vargas, recipient of the Fountain House Award for Excellence in Broadcast Journalism
One of the most inspirational highlights of the afternoon occurred when Honoree and singer-songwriter, Judy Collins, spoke openly about her struggles with anxiety, depression and alcoholism as well as the devastating suicide of her son. Judy also sang a few lines from her hit song, "Both Sides Now" and encouraged a sing-along with the 600 event attendees.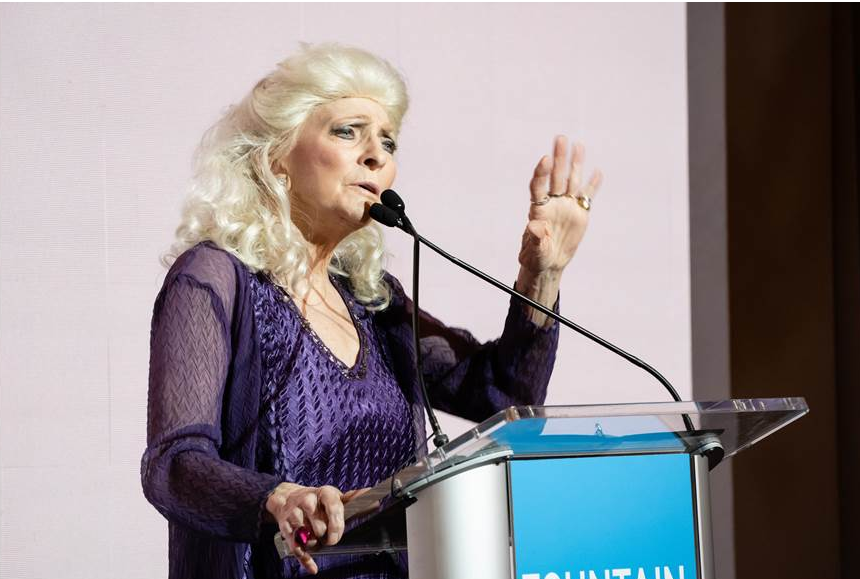 Judy Collins, recipient of the Fountain House Humanitarian Award

Founded in 1948, Fountain House is the most widely replicated evidence-based mental health treatment approach in the world with over 300 model programs serving over 100,000 people throughout the United States and in more than 30 countries. Fountain House is the first mental health organization to receive the Conrad N. Hilton Humanitarian Prize, the largest and most prestigious recognition of humanitarian efforts.To learn more about the innovative work of Fountain House, visit: www.fountainhouse.org.

It's not too late to support the 2019 Fountain House Symposium and Luncheon. There are many ways you can get involved, including:
Contributing to the event to support our innovative programming by clicking here.
Contacting us to arrange a tour of Fountain House to see our transformative work firsthand. Please call us to schedule your visit at 212-582-0341 x 350. 

Once again, thank you for your support of Fountain House's Symposium and Luncheon. We hope it inspires you to spread the word to your friends and colleagues so they will join us in the future.
 
We look forward to seeing you on Monday, May 4th 2020!